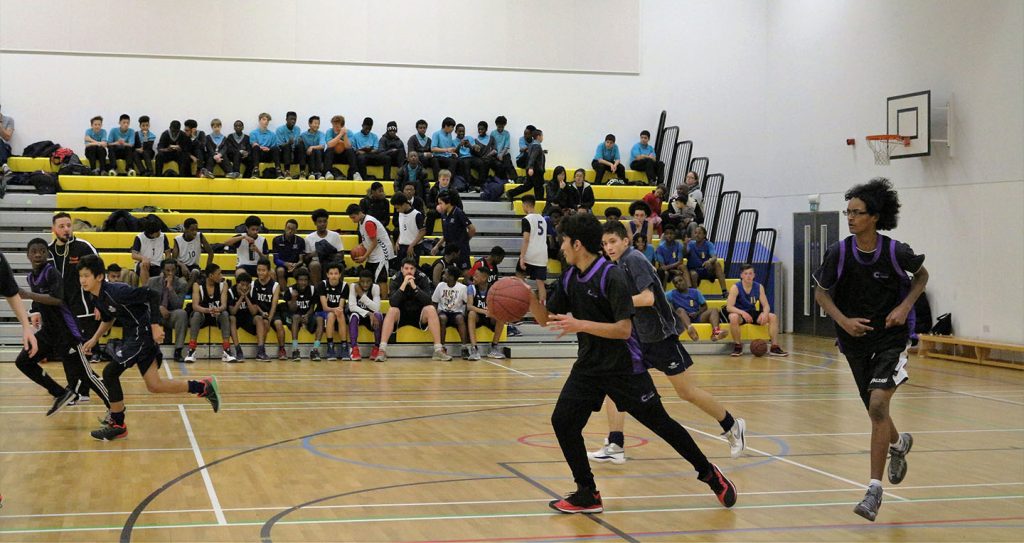 Thomas Tallis School played host on Friday 4 December to the Greenwich Key Stage 4 basketball tournament where the winner will go on to represent Greenwich at the London Youth Games.
The schools represented were:
Stationers Crown Woods Academy
St Pauls Academy
Corelli College
Thomas Tallis School
Woolwich Polytechnic
John Roan School
Though Woolwich Polytechnic dominated the tournament winning all 5 of their fixtures, it was fascinating to see the number of Titans junior players who featured and stood out.
Titans Players Represented:
Seal Osajivbe –            Thomas Tallis School
Thomas Sutherland – Stationers Crown Woods Academy
Vilius Lukauskas – Stationers Crown Woods Academy
Jordan Ilori – Thomas Tallis School
Ngawang Thardo – Stationers Crown Woods Academy
Christopher Matricardi – Corelli College
Sujan Gurung – Corelli College
Iyanuoluwa Owete – Stationers Crown Woods Academy
Abdulwahab Ayinla – Woolwich Polytechnic
This tournament was a success, everybody played and had fun. We're thankful to all our partners and schools that made it. Thanks to all P.E. teachers that brought their teams, we appreciate your support and expect to see you in the next tournament/fixtures. Thanks to all that played, work on your game and get ready for your rematches in 2016.
Let's Go Titans!!!
Game Notes
Thomas Tallis School went up against John Roan to start things off. Thomas Tallis, with Seal (15 year old Titans U16 Capt) and a lot of help from a former Titans U14 player, Bishal, led their team. Playing with their successful team offence, out scored their opponents 20-10 to win. Next up was Woolwich Polytechnic, who always come with size, showed off their aggressive defense against St. Paul's. This team also features one of our U16 players, Larry, and he came to WORK today. Woolwich Poly won 15-7.
Crown Woods v Corelli College was a fast paced match, with both teams showing off their fast break scoring players and abilities. Iyanu, another Titans U16 player aged 14 was a particular sight; bursting through defenses with his unique scoring style on the fast break, could do no more to help his Crown Woods team win. Corelli won this one outlasting their opponents by 4.
St. Paul's, featuring two brothers Habib and Latif, with help from Ping, turned up their defense and aggression with each team they played. Unfortunately it didn't pay off till they matched up against Corelli College and John Roan, where they secured their only wins of the day (2 wins).
John Roan School, Stationers Crown Woods School and Corelli College featured a lot of players new to the game, with a few other bright spots among them who had game. However, John Roan and Crown Woods schools were each able to secure a lone victory while Corelli College, like St. Paul's finished with 2 wins a piece.
Having established their dominance early on, Thomas Tallis School and Woolwich Poly let everyone know they were the teams to beat. With each team undefeated till they matched up against each other. Thomas Tallis, with their well-coached year 9 and 10 players, armed with their offence; and Poly with their size, intimidating defense and gifted yr 11 athletes. This one should go down to the wire.
Offence vs Defense. Go! Woolwich won the tip and quickly went on a 7 – 0 run to start feeding off a steal from Larry and a few lay-ups from his teammates. As the game progressed it was clear that Tallis could not come back from the poor start, with a few buckets here and there, they lost their rhythm. A late 3 from Seal changed nothing. Woolwich poly out hustled their younger opponents and out scored them to win the tournament. Thomas Tallis finished 4 wins 1 loss. Woolwich Poly finished undefeated at 5-0 winning the tournament. They will represent the borough in youth games in 2016.